In a cliff of Igidae's coast, a stone Buddhist imaged rock stands to the sea as if he prays for safety of the ships passing by. Recently, dinosaur's footprints were found in Igidae, so Nam-gu district office arranged this area and constructed a park where an outdoor stage and dinosaur models are provided for citizens' enjoyment.
Igidae, which is a base in the East Sea facing with Jangsan Peak, is included in Yongho-3dong. There is one hill between Igidae and Yongho sewage treatment plants. The eastern part of Jangsan Peak (225.3m) meeting the sea has a beautiful view with many fantastic rocks and cliffs. It is, however, dangerous for people to walk, so they enjoy the view in ships on the sea. The center of Igidae is not a vertical cliff, but rather a gentle slope of rock which runs into the sea for about 2km. This place shows a fantastic view of the East Sea as well as good fishing place. Until 1993, an army base was built there and civilians' access had been prohibited.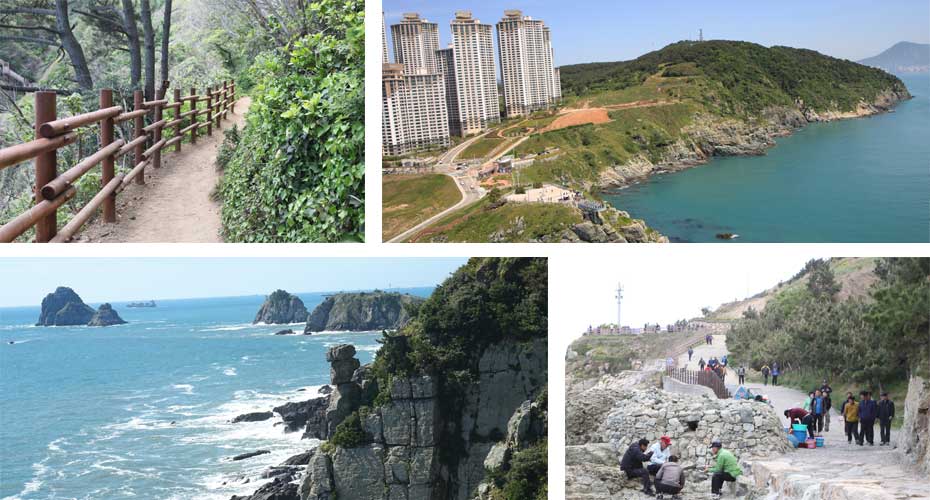 be summarized as below: First, according to the book Dongraeyeongji (edited by Hyeongha Lee, the Jwasusa, or naval commander of the Left, 1850) which introduces the history and the geography of Jwasuyeong (the navy camp of the Left) in the Choseon Period, the place was called Igidae. It said that it was located 15-ri distant from Jwasuyeong to the south, and there were two kisaeng-girls' (singing and dancing girls) graves located there. No other detailed explanation was written.
the place with two kisaengs, so the place was called as Igidae (Place with Two Kisaengs). In old days, high-ranking officials often called in a kisaeng, so it can be understandable to be called Igidae (Place with Two Kisaengs), but it is general opinion that naming such a beautiful place after the graves of two kisaengs who were included in the lower-class is hard to understand. Third, according to Hanbok Choi (1895∼1968), the folklore historian of Suyeong, when the Japanese army conquered Suyeong Fortress and gave a banquet at the beautiful place during Japanese Invasion of Korea in 1592,one righteous kiseang volunteered for participating in the banquet and served wine to a Japanese commander to the fullest. Then, she held the commander, who was fully drunken, in her arms and jumped down to the water to kill him and herself. According to this opinion, Igidae means Place of the Righteous Kisaeng, not Place with Two Kisaengs. However, the name Igidae was already recorded as 'Place with Two Kisaengs' in the book Dongraeyeongji, which is an official record 150 years ago based on further previous data; thus, this meaning is the most legitimate.